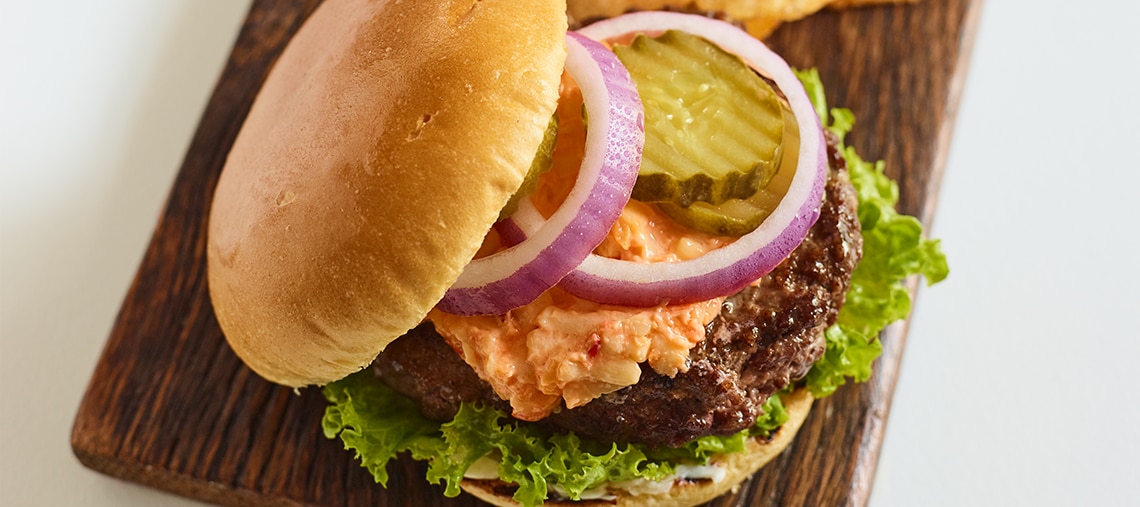 Pimento Cheeseburger
Pimento cheese on a burger!? What a genius idea! Impress your friends and family this summer with this delicious cheese on your burgers. Check out our recipe! Serves 4 / Prep Time: 10 Minutes / Cook Time: 15 Minutes
24 oz. 80% Ground Chuck

4 tbs. SE Grocers Pimiento Cheese

½ tsp. salt

½ tsp. pepper

4 ea. brioche bun

2 tbs. soft butter

SE Grocers Sriracha Aioli

green leaf lettuce, torn

red onions, sliced

pickle chips
Divide ground chuck into (4) 6 oz. patties; refrigerate.
Heat grill to medium-high heat.
Butter cut-sides of brioche buns with soft butter.
Place buns on tin foil butter-side down, then place on grill and warm until toasted; remove from heat and set aside.
Season burgers on both sides with salt and pepper, then place on grill and cook over medium-heat for 4-6 minutes each side, or until internal temperature registers 165 degrees on a meat thermometer.
Add 1 tbs. of pimiento cheese to each burger and close the grill lid. Turn off heat and let rest on grill for 5 minutes until cheese is melted.
Place burgers on bottom-half of bun and add toppings as desired, followed by the top of the bun. Enjoy!
Share your creations with us! Tag us on Facebook, Instagram or Twitter!