Winn-Dixie Flavor Magazine
Welcome to Winn-Dixie Flavor magazine. Each issue is packed with delicious recipes and seasonal inspiration. Best of all, we'll be bringing it to you every month!
Latest Issue - November/December
The holidays are nally here! It's that special time of year when everyone makes the extra effort to spend quality time together and tell their loved ones how much they care. Gathering around the table is a staple of the season, and there aren't many things that will warm your heart more than delicious food shared with family and friends.

Everyone loves the classics for their Thanksgiving and Christmas feasts, so let us inspire you with simple and creative twists. Our turkey is basted in a sweet orange butter (page 22), and the cornbread dressing has in-season apples and pecans (page 24). The key to the tangy taste of our spiral ham (page 28)? Fruit preserves! Try it with a side of our root beer-glazed carrots (page 28), and your guests will wonder about the secret ingredient for years to come.
We didn't forget about your sweet tooth, either. Bring our spiced slice-and- bake cookies (page 18) to your next party, or serve up our Southern pecan pound cake (page 17) when family arrives from out of town.

The holidays can be hectic, too, so during the weeknights, try our Fast Five recipes (page 11) like slow cooker chicken cacciatore, and save time with DIY gifts like sea-salt caramels (page 14).

I'll be ringing in the New Year with our festive cocktails (page 38), like the grapefruit sparkler.


We'd love to see what you're cooking up this fall! Send us an email at flavor@winn-dixie.com or post a photo with the hashtag #WinnDixieFlavor. We'll retweet, like, and share your pics!
Cheers to 2018!
Current Issue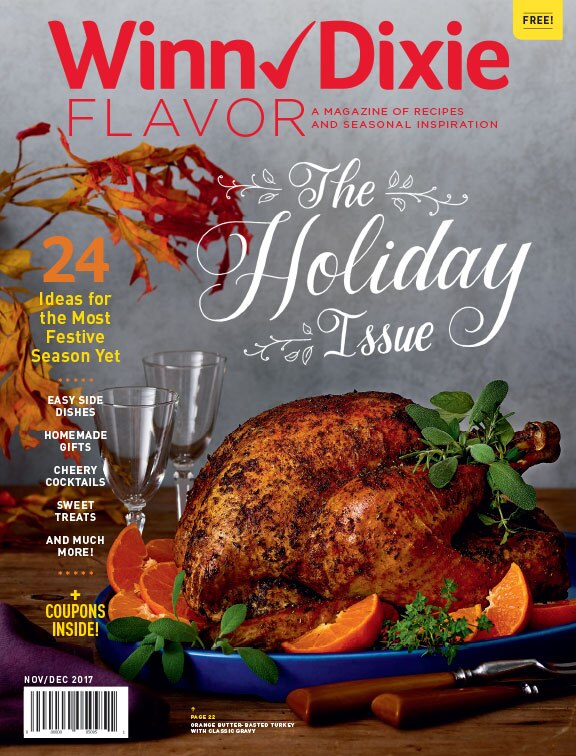 OUR ADVERTISING PARTNERS

PREVIOUS ISSUES