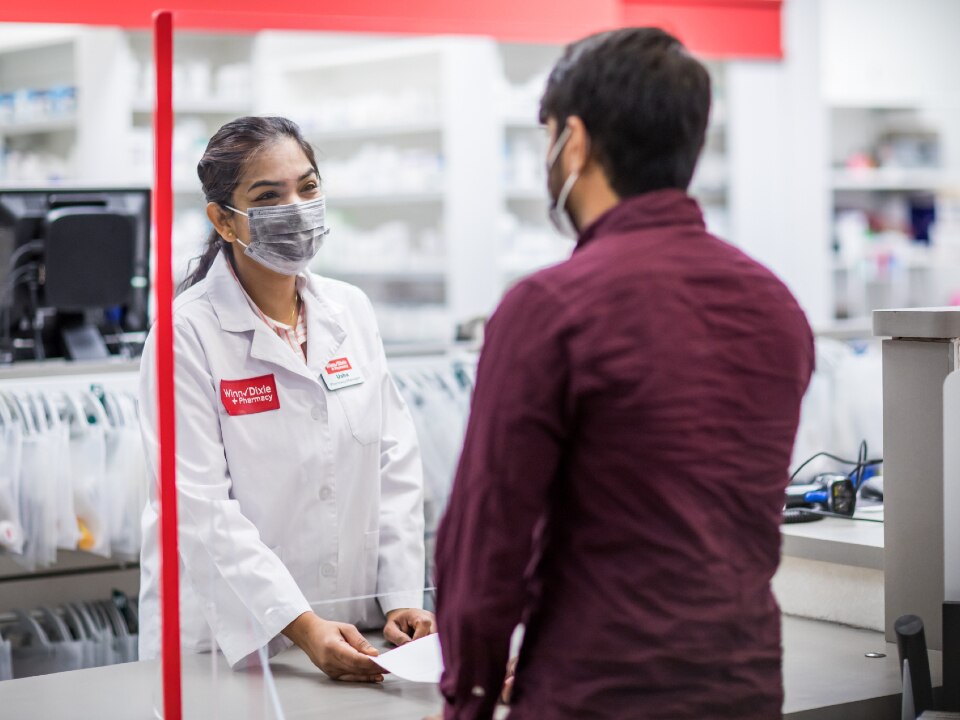 COVID-19 Vaccine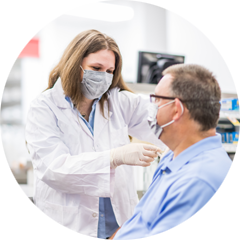 COVID-19 vaccine and what you need to know
Winn-Dixie will announce when our pharmacy is able to administer the COVID-19 vaccine. Our pharmacists are experienced in safely providing regular vaccines, such as flu, shingles and pneumonia. As always, we follow all CDC and state recommended guidelines. Vaccines will be administered by appointment only. To save time, download our consent form now. Beginning March, 3 the state of Florida has expanded persons under 65 deemed medically vulnerable by a physician to receive the COVID-19 vaccine. Qualified individuals must bring a completed form by thier physician to the pharmacy at time of their appointment.
Availability can change quickly based on demand, we understand this might be frustrating. If there are no available appointments at the location you selected, you may choose a nearby location or check back frequently for the next opportunity to schedule your appointment.
Please note: vaccination appointments can only be made online at this moment. Appointments cannot be made by calling Winn-Dixie or the Winn-Dixie pharmacy.
Who can get the COVID-19 vaccine
Your state health department determines who is eligible to get vaccinated.
The CDC has implemented a phased approach to vaccine distribution. The charts below help explain their plan.
Phase 1A
Healthcare personnel such as, nurses and nursing assistants, pharmacist, phlebotomist, physicians, technicians, dentist, therapist. Click here for a more extensive list.
Long-term care facility residents making sure long-term care facility residents are vaccinated as soon as possible will help save lives of those who are most at risk of dying from COVID-19.
Phase 1B
Frontline essential workers such as firefighters, police officers, corrections officers, food and agricultural workers, U.S. postal service, grocery store workers, public transit workers, and those who work in the educational sector.
People aged 75 and older that are at high risk of hospitalization, illness, and death from COVID-19.
Phase 1C
People aged 65 through 75 that are at high risk of hospitalization, illness, and death from COVID-19.
People aged 16 through 64 with underlying health conditions increase the risk of serious, life threatening complications from COVID-19.
Other essential workers, such as people who work in transportation and logistics, food service, housing, construction, finance, information technology, communications, energy, law, media, public safety, and public health.
If you fall into one of these groups, we recommend contacting your public health department for more information.
Check here for frequent updates on COVID-19 vaccine distribution.
Additional COVID-19 resources
Stay up-to-date with the latest information from the CDC
More information on the COVID-19 vaccine
Find the most up-to-date information from your state's health department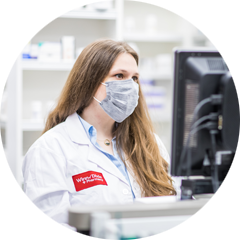 COVID-19 vaccine FAQs
The goal for Operation Warp Speed is to deliver safe vaccines that work, with the first supply becoming available before the end of 2020.

Currently, two vaccines are authorized and recommended to prevent COVID-19 in the United States. To help guide decisions about how to distribute limited initial supplies of COVID-19 vaccine, the CDC and the Advisory Committee on Immunization Practices have published recommendations for who should be vaccinated first. Supplies will increase over time. The goal is for everyone to be able to easily get a COVID-19 vaccine as soon as large quantities are available. However, a COVID-19 vaccine may not be available for young children until more studies are completed.

---

Federal and state guidelines prioritize the vaccination of certain vulnerable populations before COVID-19 vaccination program providers. The government will be providing Winn Dixie the vaccines in line with prioritization guidelines.

---

Yes. The CDC recommends that during the pandemic people wear a mask that covers their nose and mouth when in contact with others outside your household, when in healthcare facilities, and when receiving any vaccine, including a COVID-19 vaccine. Anyone who has trouble breathing or is unable to remove a mask without assistance should not wear a mask. For more information, visit considerations for wearing masks.

---

The CDC and FDA encourage the public to report possible side effects (called adverse events) to the Vaccine Adverse Event Reporting System (VAERS). This national system collects these data to look for adverse events that are unexpected, appear to happen more often than expected, or have unusual patterns of occurrence. Learn about the difference between a vaccine side effect and an adverse event. Reports to VAERS help the CDC monitor the safety of vaccines. Safety is a top priority. Healthcare providers will be required to report certain adverse events following vaccination to VAERS. Healthcare providers also have to adhere to any revised safety reporting requirements according to FDA's conditions of authorized use throughout the duration of any Emergency Use Authorization; these requirements would be posted on FDA's website.

The CDC is also implementing a new smartphone-based tool called v-safe to check-in on people's health after they receive a COVID-19 vaccine. When you receive your vaccine, you should also receive a v-safe information sheet telling you how to enroll in v-safe. If you enroll, you will receive regular text messages directing you to surveys where you can report any problems or adverse reactions you have after receiving a COVID-19 vaccine.

---

There are currently no available vaccines that will prevent COVID-19. However, multiple agencies and groups in the United States are working together to make sure that a safe and effective COVID-19 vaccine is available as quickly as possible.

A flu vaccine will not protect you from getting COVID-19, but it can prevent you from getting influenza (flu) at the same time as COVID-19. This can keep you from having a more severe illness. While it's not possible to say with certainty what will happen in the winter, CDC believes it's likely that flu viruses and the virus that causes COVID-19 will both be spreading during that time. That means that getting a flu vaccine is more important than ever.

---

COVID-19 vaccines help our bodies develop immunity to the virus that causes COVID-19 without us having to get the illness. Different types of vaccines work in different ways to offer protection, but with all types of vaccines, the body is left with a supply of "memory" T-lymphocytes as well as B-lymphocytes that will remember how to fight that virus in the future. It typically takes a few weeks for the body to produce T-lymphocytes and B-lymphocytes after vaccination. Therefore, it is possible that a person could be infected with the virus that causes COVID-19 just before or just after vaccination and then get sick because the vaccine did not have enough time to provide protection. Sometimes after vaccination, the process of building immunity can cause symptoms, such as fever. These symptoms are normal and are a sign that the body is building immunity.

https://www.cdc.gov/coronavirus/2019-ncov/vaccines/different-vaccines/how-they-work.html?CDC_AA_refVal=https%3A%2F%2Fwww.cdc.gov%2Fcoronavirus%2F2019-ncov%2Fvaccines%2Fabout-vaccines%2Fhow-they-work.html

---

Vaccine doses will be given to the American people at no cost. The Federal Bureau of Investigation (FBI), Department of Health and Human Services Office of Inspector General (HHS-OIG), and Centers for Medicare & Medicaid Services (CMS) are warning the public about several emerging fraud schemes related to COVID-19 vaccines. If you believe you have been the victim of a COVID-19 fraud, immediately report it to the FBI (ic3.gov, tips.fbi.gov, or 1-800-CALL-FBI) or HHS OIG (tips.hhs.gov or 1-800-HHS-TIPS)

---
Find your nearest pharmacy.
Looking for a location near you? Find a Winn Dixie pharmacy in your area.
Error: Please enter a valid 5-digit Zip Code or both City and State separated by a comma. Ex: Jacksonville, FL
Error: Please enter a valid 5-digit Zip Code or both City and State separated by a comma. Ex: Jacksonville, FL
Error: Please enter a valid 5-digit Zip Code or both City and State separated by a comma. Ex: Jacksonville, FL
Error: Please enter a valid 5-digit Zip Code or both City and State separated by a comma. Ex: Jacksonville, FL
Disclaimer
Disclaimer: Please review the Moderna, Janssen COVID-19 vaccine fact sheet, and eligibility chart to verify that you are able to receive the COVID-19 vaccine at this time.
Long-term care facility residents and staff;
Persons 65 years of age and older;
Persons under 65 deemed medically vulnerable by a physician; (must bring in completed form to the pharmacy at time of your appointment);
Health care personnel with direct patient contact;
K-12 school employees and childcare workers;
Sworn law enforcement officers 50 years of age and older; and
Firefighters 50 years of age and older
By clicking the "Schedule my appointment" button you are confirming that you have met all the requirements above to receive the COVID-19 vaccine.
Neighborhood Stores in Florida, Georgia, Alabama, Louisiana and Mississippi. Copyright &nbspWinn-Dixie Stores, Inc. All Rights Reserved.