Looking for a

New Pharmacy?
For new pharmacy customers: get $25 off your groceries with a new or transferred prescription. We accept most major insurance plans. Plus, $4 and $10 plus select FREE generics. Make the switch to your Winn-Dixie pharmacy today! See exclusions apply below.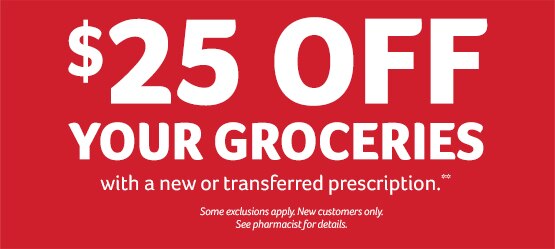 Low Cost, Convenience and Care
Open 7 days a week. Fill your prescriptions while you shop. We accept all major insurances including CVS Caremark, Express Scripts, OptumRx, Medicare and Tricare. Our everyday low cost generics may be able to help reduce your out-of-pocket prescription costs. At Winn-Dixie we care about your health and wellness. Our pharmacists believe in providing personalized care and are ready to assist you with your prescriptions as well as your health and wellness needs.

**Limit one per transaction, per customer before 3/13/18. Excludes transfers from existing Winn-Dixie, BI-LO, Fresco Y Mas and Harveys locations. Not valid on controlled substances in Louisiana. Not valid for transfers in Mississippi and Alabama. In accordance with Federal law, this offer may not be redeemed if payment is made under Medicare and other Federal or state healthcare programs defined in section 1128(h) of the Social Security Act. New customers only.